Ultimate Grey + Salmon Pink Trim
₦65,000
Out of Stock
The "Doro" bucket bag is made from 100% Vegan (cruelty free) leather and is reminiscent of the vessel used in traditional African setting to draw water from the well. "Doro" is the word for this simple but essential utensil, derived from the Yoruba language of Nigeria.
This bag which comes with a detachable inner purse, is beautifully paired with the matching "Owo-Eyo" mini scarf – a tribute to the cowrie shell as a medium of monetary exchange during the pre-colonial era in African history.
Similar to the typical "Doro", this bag is durable and versatile which makes it perfect for both work or leisure.
Outer Material- Vegan Leather
Inner Lining- Vegan Leather
Measurement- 25cm(L) x 27cm(H) x 14cm(W)
Inner Detachable Purse- 19cm(L) x 13cm(H)
Detachable Strap- 60cm Drop
Detachable Top Handle – 27cm
Scarf Size- 62cm x 62cm
Material- 100% Twill Polyester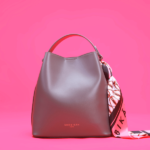 Ultimate Grey + Salmon Pink Trim
₦

65,000
Out of stock